Come, come, whoever you are. Wonderer, worshiper, lover of leaving. It doesn't matter. Ours is not a caravan of despair. (Rumi)
A month ago, in Astoria, Queens–not far from where we live, and where nearly 150 different languages are spoken by local residents–a shopkeeper was assaulted for being Muslim. Later, neighbors of all ethnicities gathered at his shop to stand against hatred.
Our trades, art and design, lead us to all corners of the globe to seek beauty and inspiration, and we try to share what we find. For a month on Instagram and Facebook, we have been posting treasures of Islamic art and architecture in an attempt to balance, in our own very small way, the paranoia and bigotry which are informing our political landscape and therefore our daily lives. Here are the first few posts.
This breathtaking space is in the Ibn Yusuf Madrasa in Marrakech, Morocco, an Islamic college built in the 14th century.
Next, a calligraphic drawing of a galleon by Abd al-Qadir Hisari, in the collection of the Metropolitan Museum. "The hull of this sailing ship comprises the names of the Seven Sleepers and their dog. The tale of the Seven Sleepers, found in pre-Islamic Christian sources, concerns a group of men who sleep for centuries within a cave, protected by God from religious persecution. Both hadith (sayings of the Prophet), and tafsir (commentaries on the Qur'an) suggest that these verses from the Qur'an have protective qualities." (from metmuseum.org)
This 10th century Iranian bowl is one of our favorite pieces of pottery in the Met Museum. The calligraphic decoration reads "Planning before work protects you from regret…" and, "prosperity and peace."
This 17th century Safavid drawing by Muhammad Qasim depicts a bearded dervish with two youthful novices conversing in a grassy landscape, while rabbits frolic in the hills behind them. (From the Lawton Mull collection, now sold.)
A delicate balance is required to combat violence perpetrated in the name of religion, an ideology or an economic system, while also safeguarding religious freedom, intellectual freedom and individual freedoms. But there is another temptation which we must especially guard against: the simplistic reductionism which sees only good and evil; or, if you will, the righteous and sinners. (Pope Francis)
We believe that the more we are exposed to the riches of other cultures, the less possible it is for us to succumb to reductionism. This Ottoman textile fragment from the 16th century can be found in Boston's Museum of Fine Arts.
This vaulted corridor is in the Abbasid Caliph Al-Naser Ledinillah Palace in Baghdad, built circa 1200.
The 16th century glass mosque lamp pictured below is in the collection of the Victoria and Albert Museum and is a wonderful example of the technical and aesthetic cross-fertilization between the Islamic and Mediterranean worlds. From their website: "Enameled glass and inlaid brassware were produced in Mamluk Egypt and Syria from the 13th century and widely exported, probably from Damascus, one of the main trading centres in the eastern Mediterranean. The clarity of Mamluk glass exceeded anything that could be made in Europe at the time…These objects were highly valued by their European owners. Venetian glassmakers responded quickly to the commercial challenge of Islamic glass and by the late 13th century they were also producing glass decorated with enamels…Venetian glassmakers ground river pebbles to create a silica with almost no impurities, which resulted in a clear colourless glass. Their rise to technical supremacy by the 15th century caused the Islamic industry to decline, and glass mosque lamps were made in Venice for export to the Middle East."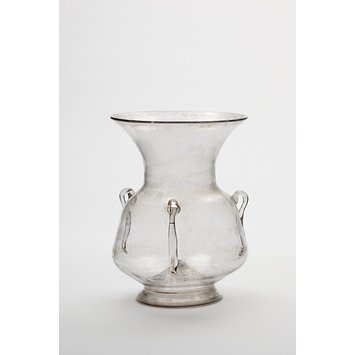 And still, after all this time, the sun never says to the earth, "You owe Me." Look what happens with a love like that, it lights the Whole Sky. (Hafez)
Hafez (1325-1389) was a Persian poet who celebrated love and criticized religious hypocrisy. His writings are considered a pinnacle of Persian literature and are to be found in the homes of most people in Iran to this day. Below, a domed mosaic ceiling in the Imam Mosque of Isfahan, Iran, a masterpiece of Persian architecture from the Islamic period.
 
Darkness cannot drive out darkness; only light can do that. Hate cannot drive out hate; only love can do that. (Martin Luther King Jr.)