If you couldn't attend our exhibit of Jeff Hoppa's drawings, including the monumental Ultima Thule, here are a few images from the show (with candid contributions from friends).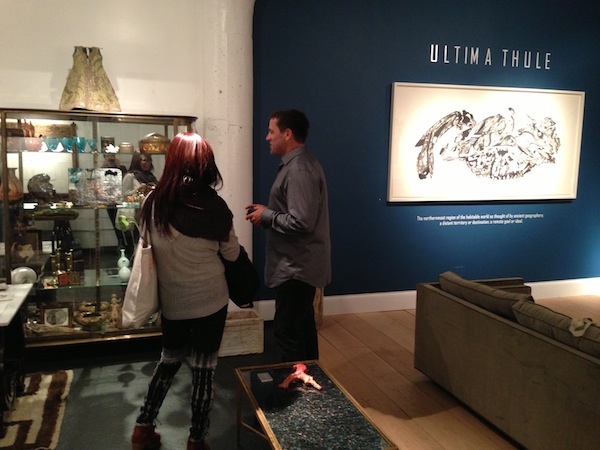 Jeff Hoppa and artist Kira Greene examine a cabinet of curiosities.
The Daedalus table makes an appearance.
The processional figure observed from a discreet corner.
Cordelia Lawton with Mark Jacoby of Philip Colleck.
Artist Jeff Hoppa.
Still life with moss,Tillandsia spp. and pomegranates.
The skull drawings of Collectio Bickmoriana with Mies van der Rohe chairs.
Hoppa chatting with sculptor David Ferris. Jennifer Hoppa in the background.
Lawton Mull's usual eclectic assemblage: a velvet-upholstered sectional sofa for Directional, attributed to Paul McCobb; coffee table by Tobia Scarpa; Secessionist armchairs; 18th century Italian rococo mirror; the drawings of Jeff Hoppa.
A 19th century Kerala canoe seemed the perfect vessel for a trip to Ultima Thule.
A quiet corner.
Patrick Mull talks with Diana Jacoby.
Thanks to Jeff Hoppa for sharing your extraordinary work with us, and thanks to all the friends and family who came by to see it.