"Glass can be a a lot of different things, not only handmade objects to drink from, but also performance. I seriously believe that creating glass, hot glass, is the greatest art. That's how crazy I am about glass. To create, and get your hands dirty with ashes and your brow sweating, and make something so crisp and crystal clear, to me is the most beautiful thing."
We first encountered Jennie Jessen's handblown glass at a remote hotel on Gotland in summer. The light was long, the air balmy, chef Filip Fastén and his team at Agrikultur, the restaurant in residence at Fabriken Furillen, had just produced their first artisanal gin. The gin was a perfect complement to the local and seasonal cuisine, which included amuses bouches of lichen and reindeer meat, and the glasses in which it was served seemed, like the food and drink, to have emerged organically from the rugged landscape of the island's northeast corner.
A year later, we returned to Gotland and visited Jennie in her studio, Big Pink, in Norrlanda.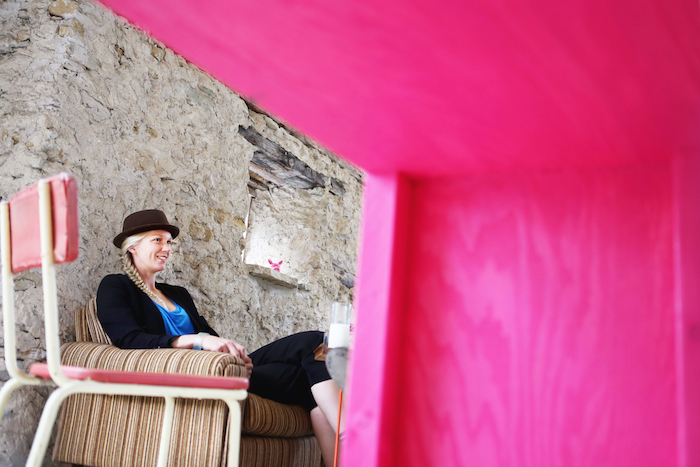 Jennie was born and raised on Gotland, an island in the middle of the Baltic Sea famous for its curly black sheep and the fact that Ingmar Bergman made his home and many of his films there. It also happens to be the sunniest spot in Sweden and, in the summer at least, its rocky landscape is tempered by the gentle weather. It's smaller than Long Island, with a population of just over 50,000, half of whom live in Visby, the capital seat of the county and one of its tourist hotspots. You can imagine that a young lady of gumption and imagination would have to leave in order to find herself.
"Ten years ago I was laying in a hammock in Laos. We had been traveling for four months, with three months backpacking still ahead of us. As I lay there, it struck me like lightning – I'm going to be a glassblower. I knew nothing of the material, I had never seen glassblowing before, despite the fact that Sweden has a long glassmaking tradition." Jennie apprenticed herself to a glassmaker on Gotland, then spent a year in Sweden's southern "Kingdom of Crystal," before moving on to Denmark, to study at the The Royal Danish Academy of Fine Arts, Schools of Architecture, Design and Conservation. During that time she did an internship at Rhode Island School of Design, where a newfound artistic freedom allowed her to develop her own aesthetic vision.
After completing her degree and visiting fourteen countries in four months, Jennie returned to Gotland. It seemed like kismet when she found an 18th century barn for sale, and with the support of the local community, made it her glasstudion.
Finding and inhabiting Big Pink gave her a sense of ownership and purpose.The studio is a clean, well-lighted place, and Jennie is its welcoming and enthusiastic proprietor. The oven blazes, and tools are arranged neatly on shelves and on the walls. Brass knuckles nailed by the door and a framed picture of Kyle MacLachlan from his Twin Peaks days reveal something of her darker side. Altogether a promising spot. "It's an open workshop where everyone is allowed to visit, to see glassblowing and learn about glass. It has also become a meeting place for locals and visiting artists alike, which I'm proud of to the bone. A place for cultural and artistic meetings."
We are proud to be the first location in the U.S. to offer her beautiful objects for sale, including her first lamp, a happy collaboration with Lawton Mull.
Click here for more images and descriptions of the glass we are selling from our gallery in Long Island City. And don't hesitate to contact us if you are interested in ordering something we don't have on hand.
"My glass, whether it's functional objects like drinking glasses, or performance, is always an extension of my love for Gotland: its exposure, its barrenness, its natural beauty, its uniqueness."